Igor Smirnov: "Moldova should keep its earlier agreements first"
The President of Pridnestrovie is willing to sit down with Moldova and discuss future relations. "But we have nothing to talk about before Moldova begins to honor its own earlier signed agreements with us," he says. According to Igor Smirnov, a total of 148 previously signed documents between the two sides have been ignored by Moldova.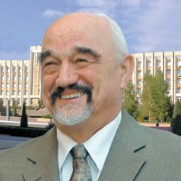 Speaking to the press during Pridnestrovie's 17 year independence celebrations, PMR President Igor Smirnov - who was re-elected in December 2006 in the presence of international observers - said that the past year was "full of important events for the building of the Pridnestrovian nation and the consolidation of its foundations. There were two significant events – the presidential elections and the referendum where our people re-affirmed its pro-independence course."
" - And, naturally, as we somehow getting used to by now, there were constant provocations by Moldova in the buffer zone, which very nearly ended with a tragedy. These moments put the economy and the spirit of our state to the test," he added.
In this interview, he looks back at the year and talks about some of the trials that await Pridnestrovie in the future as it pursues its goal for international recognition and full independence from neighboring Moldova.
" - All the trials that we have gone through shows that there's no other way except our own statehood and independence. We must now cope with most of the problems on our own. We're grateful to our friends for aid, but we understand that we should first of all rely on ourselves," said Smirnov. "Over the past year and a half we've lost 565 million dollars. Of course, the blockade affected the macroeconomic indicators and our budget."
For the President of Pridnestrovie - traditionally a strong agricultural region - farming is a concern.
" - As you know Pridnestrovie suffered a severe drought this year," he told journalists. "This year the country lacks 60% of its crops. But agribusiness insurance is widespread in our state, besides the state will offer tax relief for the lost crops. But despite climatic conditions there are still farmers who managed to harvest more crops than in the previous year. They achieved such results due to intensive farming, modern irrigation systems and agricultural equipment. It shows that the land bring profits when it is cultivated properly. Besides, the state should not only launch anti-crisis measures aimed at minimizing losses. It should offer a complex support program for agriculture. The main obstacle to development of such a program is long-term credits which our banks are unable to offer just yet."
If agriculture is a priority, are there any prospects for re-establishment of the Agriculture Ministry?
" - Well, we've already had the ministry for agriculture. What then? The point is not in it, but in efficiency of work. The departments at local administrations and services under the Ministry of the Economy have now been set up. So in my opinion, the establishment of the ministry will only complicate the matters when we are making every effort to cut funds for administration. We allocated 17-25 million dollars every year. What did we get for it?"
Apart from the drought, what are the main problems which the farmers in PMR face?
" - Today we have a problem with finding outlets and markets for what we produce. The Slobodzya district used to grow 350,000 tons of vegetables. Tell me, please, what are you going to do with 350,000 tons now? We compete with Ukraine and Moldova in agriculture. The key tasks of agriculture is to feed our people and then to earn money to fund social programs. There are positive developments in land allocation. I visited the Kamenka and Rybnitsa districts. Despite a severe drought and huge losses, people are still eager for farming the land. The state should support those who cultivate the land effectively. The right policy is to not hinder the farmers, but to assist them in processing and selling their products when they can't export it without the forced registration in Moldova. That's what we are doing now."
What is the situation with the status settlement talks in 5+2 format? Will they be restarted?
" - We have nothing to talk about before Moldova begins to honor its own earlier signed agreements with us. 148 documents have been signed between us, but none of them are implemented. It is not my fault that new Presidents come to power there (and then don't want to observe what their predecessors signed). Under the 1997 Memorandum we have a right to independence in the economic sphere. What new is there to negotiate about if they won't accept what they signed with us?
The negotiations were first halted in 2001. Then, as you remember, Moldovan negotiator Shova left the talks, slammed the door in everyone's face, and not even William Hill (head of OSCE's Moldova mission) could stop him. Now, after Moldova passed their law of the so-called "special legal status of localities from the left bank of the Dniester", I think there's really nothing to talk about. Remember, this law that offers us a lower status than even Gagauzia has. Other people say so, I haven't read it and don't want to, because it is not legitimate document. But we are ready for negotiations if all of the above mentioned aspects can be agreed upon.
Pridnestrovie was once forced into a union with Bessarabia without anyone asking its people. There was unification with some Ukrainian districts in the same manner. Now they passed that law. For some reason, everybody performs the work of God where they think they can set rules for others. At the same time they go on and on about democracy. What about the will of people? Our 17 September 2006 referendum was absolutely free. You know the results: 98% of the voters want independent development and also closer ties with Russia.
The populations of Moldova and Pridnestrovie have different mentalities, ideologies and different ideals. The generation who knows its state – the Pridnestrovian Moldavian Republic – has grown up and knows about the harm caused by those nationalists who wanted to take personal advantage of the break-up of the USSR. Pridnestrovie's society differs markedly from Moldova's. And everybody here wants to live well. One should live by working and we do so. We are ready for negotiations to resolve all these problems."
A so-called "wine war" between Russia and Moldavia burst out last summer. There have been positive changes lately. What are Pridnestrovie's losses?
" - As for the losses – 8-10 million dollars failed to enter the budget. Unfortunately, we are getting used to it."
According to Voronin, the issue of "Transnistria" will be resolved in the near future. What is your view on that?
" - Voronin has made so many different statements that it is hard now to know what to believe and what not to believe. But it is impossible to solve anything behind people's back. Not a single agreement can be reached that way. What comes next? We shall see. Let us take the Kosovo precedent. Of course, it serves somewhat as an example, but we have at least as much right as Kosovo to independence. We didn't withdraw from the Soviet Union, and Russia - as the successor state to the Soviet Union - could therefore include us. But somebody didn't like that. Now it is up to us to just live, to work, to give birth to new children and to teach them that we must preserve our way of life that has been shaped for centuries of existence of the people who live here on this land."
Why doesn't Russia provide financial help to Pridnestrovie anymore?
" - We can speculate about different reasons, but I think that Russia's economic experts have arrived at a conclusion that we can cope on our own. That's why they don't give us help. In the end, this is their decision and not ours."
You said that you would retire after recognition of the Pridnestrovian Moldavian Republic. Is your decision still firm?
" - Everyone must perform his and her duties. When the time comes, I won't run away and hide. Moldova spreads the myth that as soon as Smirnov is removed from office, everyone who lives here will start embracing Moldova's President Vladimir Voronin. Of course, we can put this to a test, but I'm afraid they will hug Voronin to death. Let's do our job and strive for international recognition. We are expanding our information exchanges with the West. Guests from Russia, the West, and European parliamentarians are coming to Pridnestrovie. And we're doing it not to show that we are good, but merely to inform them objectively about what is really happening here in Pridnestrovie. We've already suffered from double standards, even triple standards."

The European Parliament held hearings and members of the now-released Ilie Ilascu group participated to talk about human rights abuse in Pridnestrovie.
" - It is a case where human rights are being discussed by convicted assassins. They killed an MP, a deputy of the Moldavian Parliament. To us, these men are just killers. If you doubt this, go meet Gusar's widow or Ostapenko's mother."

Moldova's government said that they are ready to share humanitarian aid to be given by the West if Pridnestrovie send a request. Will you send a request?
" - At first they robbed us, they do not pay their electricity bills to us, they destroyed Bender, Dubossary. And now we must ask them for something? It's easy to be kind when there are others who pay the bill. This money is not Moldova's money. We didn't ask for Moldova's help and we never will. If any of the guarantor-countries want to provide humanitarian aid to us, we welcome it and accept it with gratitude. We have laws in place to clearly stated how all such money is spent and who is responsible for it. Only yesterday I received a message from Ireland about a new container of medicines and medical equipment. We are very grateful to them. We didn't ask them for this, but they wanted to help and they sent it. They are working, not talking. In our case, we won't ask Moldova for anything."
Have you appealed to the international community for drought relief?
" - There should be enough bread. But if not, we'll think of where we can get it from. At any rate, we were brought up not to steal. Anyone may of course render help if they want to. Anyone who wants to help us will help us freely without having to be asked first. We do not want a political show. It is not the way that the Pridnestrovians are."
11.09.2007